12 best selling makeup brands in Pakistan.
Sep 23,2021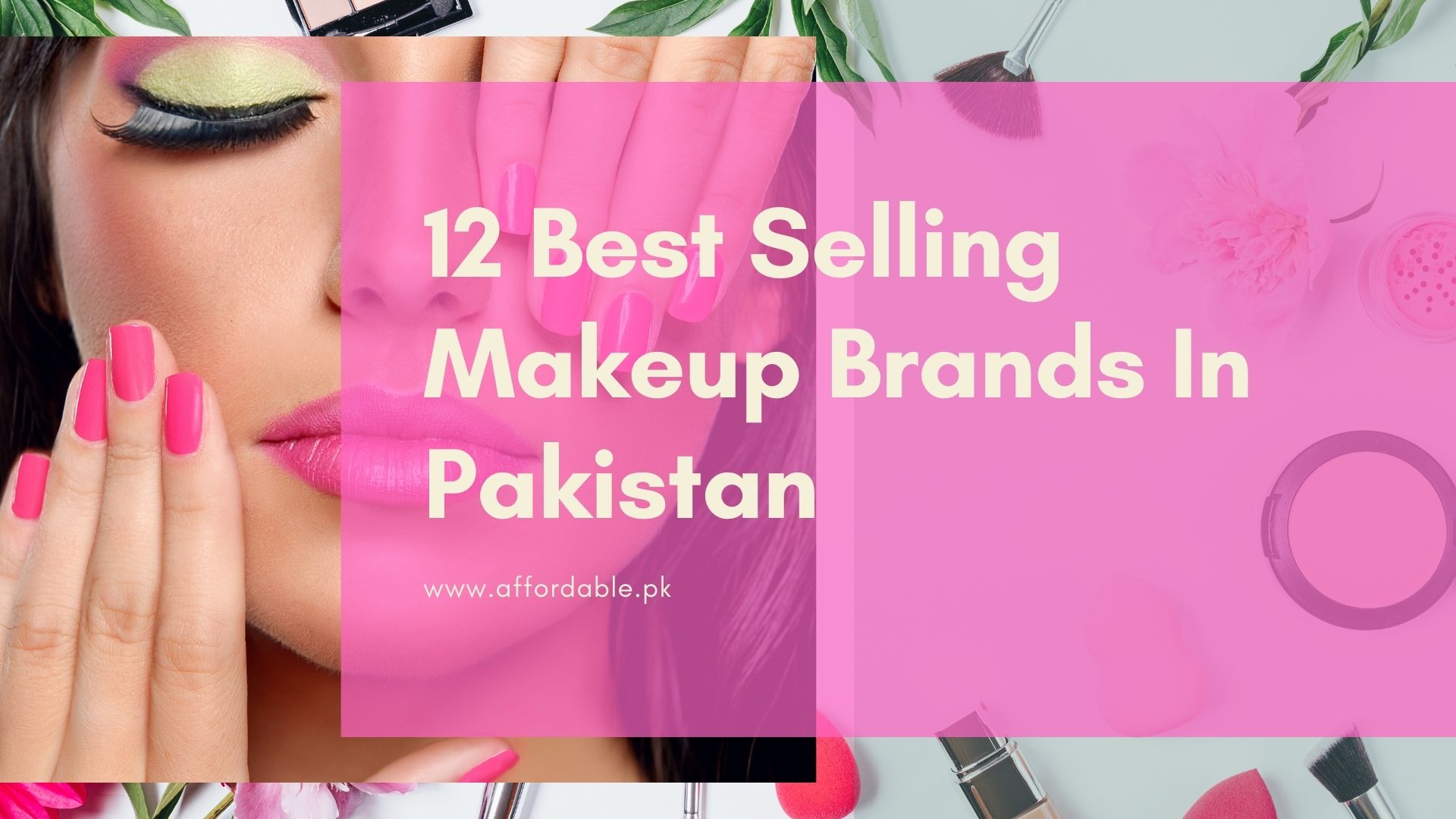 Local make-up brands in Pakistan are not only emerging every day but also taking over the cosmetic industry. They are getting more and more popular and have the highest market demand. Local make-up brands are not only cheaper but are also environment friendly as the product doesn't have to travel from far seas. These brands are constantly making effort to increase product quality and diversity. It is probably not far till these products start getting international recognition.
Here is our list of the 12 Best makeup brands in Pakistan
Medora

Christine Cosmetics

Luscious Cosmetics

Bare + Epitome

Zhoosh Official

Alezem Beauty

Atiqa Odho

Masarrat Misbah

Serenical Beauty

Rivaj UK

Beautify by Amna

Zay Beauty
Pakistani influencers are now also promoting local makeup brands of Pakistan. These brands are famous for their cost-effectiveness and good quality. Most of the brands mentioned below offer breathable makeup that feels very light on your skin. Pakistani makeup brands have stepped up their game
1. Medora
Medora of London or Medora as popularly known is one of the oldest cosmetic brands of Pakistan. They have taken over the makeup industry with their quality products are very reasonable prices. The brand has a lot of trustees who have developed this trust from years of using Medora makeup products.
Bloggers often claim Medora to be equally good to international brands in terms of variety available and quality. Whether you want to go for a glam look, a party look, a wedding or just a casual brunch look, Medora products will do justice to your looks.
Medora has a very large network of 200 plus distributors throughout Pakistan. Any cosmetic shop in Pakistan will sell Medora products. This is also what makes the brand very accessible and common in almost every household. Medora is one of the cheapest makeup brands in Pakistan.
2. Christine Cosmetics
Christine Cosmetics is the most all in one brand. While most brands have one special bestselling product, Christine cosmetics is the entire package. Each product is unique and best selling. They have a very wide distribution network and Christine cosmetic products can easily be found in any store and online.
It is owned by Add More Cosmetics Int'l which is very famously known for its high quality and unique formulas. The best part about Christine cosmetics is not even the quality but the super affordable price. It sells foundation sticks for 300-400 Pakistani rupees, which is very cheap compared to the prices of most cosmetic brands in Pakistan. However, some reviews suggest that the foundation oxidizes quickly, which means the product wears off sooner than most matte foundations. It is not recommended for people with oily skin.
3. Luscious Cosmetics
Luscious Cosmetics is an independent beauty brand created for makeup lovers across the world. The best part about Luscious cosmetics is that their products are cruelty-free and vegan! Rarely do we find international or local cosmetic brands that sell cruelty-free products.
They have added new promotional sales on all their products that give discounts of up to 30% off. Luscious cosmetics is also famous for its very cute packaging that comes with a cute note from the team at Luscious Cosmetics. It was founded in 2008 with the sole purpose of filling the gap of lack of ethical make-up brands in Pakistan. The brand very famously promotes itself for being environmentally friendly. It is also a member of PETA (People for the Ethical Treatment of Animals) and gets all its products approved for being cruelty-free.
Luscious Cosmetics has many award-winning bestsellers. The most well-known product is their lipstick collection. A lot of reviews write that it is highly pigmented, has a lot of colours available and is super hydrating for your lips.
4. Bare + Epitome
Bare Epitome is an organic brand that uses 100% natural ingredients to make its products. Their age-defying cream is one of the most popular products they sell. Bare Epitome uses natural extracts from trees, leaves, sea minerals and fruits. The brand sells handmade products that contain ingredients in perfect proportion.
The brand is owned by two women who strongly advocate for women's rights and make effort to bring the best out of your natural skin! They wish to restore youthfulness and confidence. Bare + Epitome also has a wide range of skincare products that can be often used to supplement a makeup routine. Without skincare, any amount of makeup will not make your skin healthy and glowy. The team at Bare + Epitome aims to work at just that and restore the inner confidence of women in Pakistan
5. Zhoosh Official
Zoosh official is very famous for its mink eyelashes, which are lightweight and comfortable. Zoosh is also very well known for its dramatic and highly pigmented makeup that can be used
for any event from parties to weddings to casual Sundays. From eyebrow pencils/markers, creme foundations to lipsticks, Zoosh always has it all! Zoosh is an example of a leading growing brand in Pakistan which is selling premium quality cosmetics.
Zoosh official has also recently activated its blog account where they post tutorials about how their products can be best used to provide maximum beauty results. The most famous blog is the guide to apply minted lashes perfectly so they don't fall off or irritate your eye. Their mink
lashes can be worn up to 25 times! They are not synthetic or made of human hair, products manufactured by Zoosh Official are all currently free. They also sell lash glues along with their mink lashes.
6. Alezem Beauty
Alzeem beauty is a relatively new brand in the cosmetic industry in Pakistan but it has been gaining a lot of attention in very little time. It is most popularly known for its tint that can be used for both lips and cheeks. This natural tint is not only good for your skin but also lasts up to 6 hours. Some reviews suggest that after using the Lipshay (name of Alezem Beauty tint) they have visibly seen their skin glow and become healthier.
With great quality, Alezem beauty also offers amazing prices! It is a very affordable brand, especially during sale seasons. They sell everything from skincare to makeup products. Other famous products sold by Alezem beauty are their foundations, setting sprays, concealers and super soft brushes. Using the right brush is very important to blend in your makeup look and make sure your skin does not stretch too much in the process.
Many bloggers and influencers swear by it that Alezem Beauty offers the best prices for products that have international level quality. Most buyers also suggest that their products can be used for dual purposes like the concealer is often used as a contour stick as well.
7. Atiqa Odho
Atiqa Odho is owned by a former entertainment and fashion industry icon. When she launched her cosmetic brand with her name, it was sure that whatever the brand offers it will deliver quality. The spirit of the fashion icon is exactly what Atiqa Odho's products embody.
This cosmetic brand is an international hype as its owner is very famously known around the globe. Atiqa Odho brings the most amazing makeup bundles where you can get all your favourite products in one package at a very reasonable price. Whether it's glam, shimmer, or neutral tones, Atiqa Odho delivers it all. From makeup, skincare, jewellery to garments and accessories, there is always something available for everyone.
Atiqa Odho has started a new collection of masks for COVID-19 that are very fashionable. They come in beaded and embroidered designs, perfect for any fancy event. With that, the the
makeup collection is just as stunning. One of the most pigmented eyeshadows can be found at Atiqa Odho's. There is a lot of colour variety available in the products they sell.
Atiqa Odho says about her brand:
"As a brand, we believe that beauty is the right of every woman, hence we create products that are of top quality while being affordable for all."
8. Masarrat Misbah
Who does not know the amazing Masarrat Misbah of Pakistan who has done so much for abused women. She is a beautician by profession but at heart, she is a kind, empathic woman. She has set up many non-profit organisations in Pakistan to help raise the confidence of women by restoring their natural beauty. Since Masarrat Misbah is also a beautician, she owns several salons and each uses her line of premium quality make-up products.
The most famous product of Masarrat Misbah is their silky foundation which has a flowery touch to it and does not require any polishers or shiners. This foundation is especially good for brides who want to shimmer on their wedding day. Along with the glittery effect, the foundation is also very light and soft and almost feels like nothing on the skin. Massarat Misbah products are a tad bit expensive but their prices are competing with other famous makeup brands of Pakistan.
This is the first-ever certified halal cosmetics in Pakistan. Founded with a commitment to 'Reinventing Beauty' and personal grooming, Masarrat Misbah cosmetics have carved a niche for itself as an innovative purity based Halal Certified beauty brand. There is a wide variety of products ranging from eyeshadows, eyelashes, eyebrow pencils, highlighters, contours, blush and setting powders.
9. Serenical Beauty
Serenical beauty is a newly emerging brand that is slowly taking over the makeup industry. It is owned by Nabiha Wasif who was just a school student when she started the brand. They do not offer a wide variety of products yet and only sell tints and highlighters however the quality of the few products they sell is brilliant!
Bloggers like Bisma Khan, Eman Zaffar, Rimsha Khan have attested that these products are not only of the highest quality but also feel very light and natural on the skin. Serenical beauty uses all-natural ingredients to make the best organic makeup that will not harm your skin, rather rejuvenate it. It is also a 100% sustainable brand and all makeup products are sold in plastic-free packaging.
The highlighters sold by Serenical beauty are very flashy, just a swatch on your arm will show you how deeply pigmented the product is and how it blends in so easily with your skin, no
matter what the type. The light power quality also makes it a very good choice for people with porous skin types, as it smoothens the skin appearance.
10.Rivaj UK
Rivaj UK is one of the most popular brands of Pakistan just like Medora. No matter where you are in Pakistan, it is definite that you will find this brand in every cosmetic store. It sells every possible makeup and skincare item. Rivaj UK has recently introduced a new line of facemasks from which their charcoal mask has been gaining a lot of attention. It is made of pure charcoal and removes dirt from the depths of your pores. RIvaj UK is one of the best selling brands in Pakistan.
The makeup line of Rivaj UK has a lot of variety and even the rarest colours can be often found in their makeup products. In nail polishes, there are all colours from glossy hot colours to subtle pastel colours available. They also sell shiners and matte nail polish covers that can be applied as a final nail coat over nail polish to deliver just that extra touch of elegance and beauty.
The quality and variety offered by Rivaj UK is not even the best part, their very affordable prices are. In a store with Rivaj UK products, it feels like a year-round sale going on because of how affordable their products are. You can buy the cheapest, yet best makeup from Rivaj UK. It is one of the biggest competitors in the cosmetic industry and Rivaj makeup is used in a lot of bridal and casual photoshoots of major leading clothing brands of pakiPakistan.
11. Beautify by Amna
Suleman Hameed found the brand, Beautify by Amna and it is one of the closest brands to the international makeup industry. From product structure, design, variety, palette colours and designs, everything is exactly how you would find in an international makeup brand. The founder of the brand, although a man, aims to raise the self-esteem of Pakistani women and give them the quality makeup that they deserve. In many interviews, Suleman Hameed appears to be a very down to earth man,
Apart from the essence behind the brand, Beautify by Amna sells a 24K gold and rose serum that is one of its best sellers. It brings a luminous effect to your skin and helps rejuvenate natural skin structure.
Beautify by Amna's makeup collection has very pigmented eyeshadows, blushes, lip colours and highlighters. Sales happen all around the year and discounts go as much as to 70% off, it is safe to say that Beautify by Amna is very affordable for the public at large.
12. Zay Beauty
Zay Beauty is the most aesthetic brand of all the brands mentioned. Each product comes with the packaging of graphically designed art. It is famous for promoting the local culture of Pakistan and encouraging people to embrace their inner beauty and natural brown colour. They have also named their products after local Urdu words which gives them originality.
Buying cosmetics in Pakistan may be very overwhelming because of the wide variety of products available. It gets very hard deciding which product to buy from which brand but this guide helps you out with just that! Every brand makes at least one product that stands out and is brilliant in what it makes. Not too long ago, the only makeup Pakistani women used was foundation, face powder, blush, eye pigment and lipsticks. But the internet is becoming more and more accessible, everything, including the makeup industry is adapting to the global changes being made. Now, our women are not only new products like highlighters, tints, concealers, eyeliners but are also encouraging the makeup industry in Pakistan to make similar products that can compete with international brands.
There's also a very wide variety of what each makeup product can look like. Foundations can be creme or glossy. Lipsticks can be matte or shimmery and the wide variety within each product category continues. Highlighters come in different colours, some even include a tint of red so you don't need to put on blush. Eyeliners have moved from the traditional black or brown colour to now more exotic colours being introduced like neons and pastels. Makeup is about what makes you the most comfortable and happy.