Top 10 Shoes Brands in Pakistan for Women.
Oct 04,2021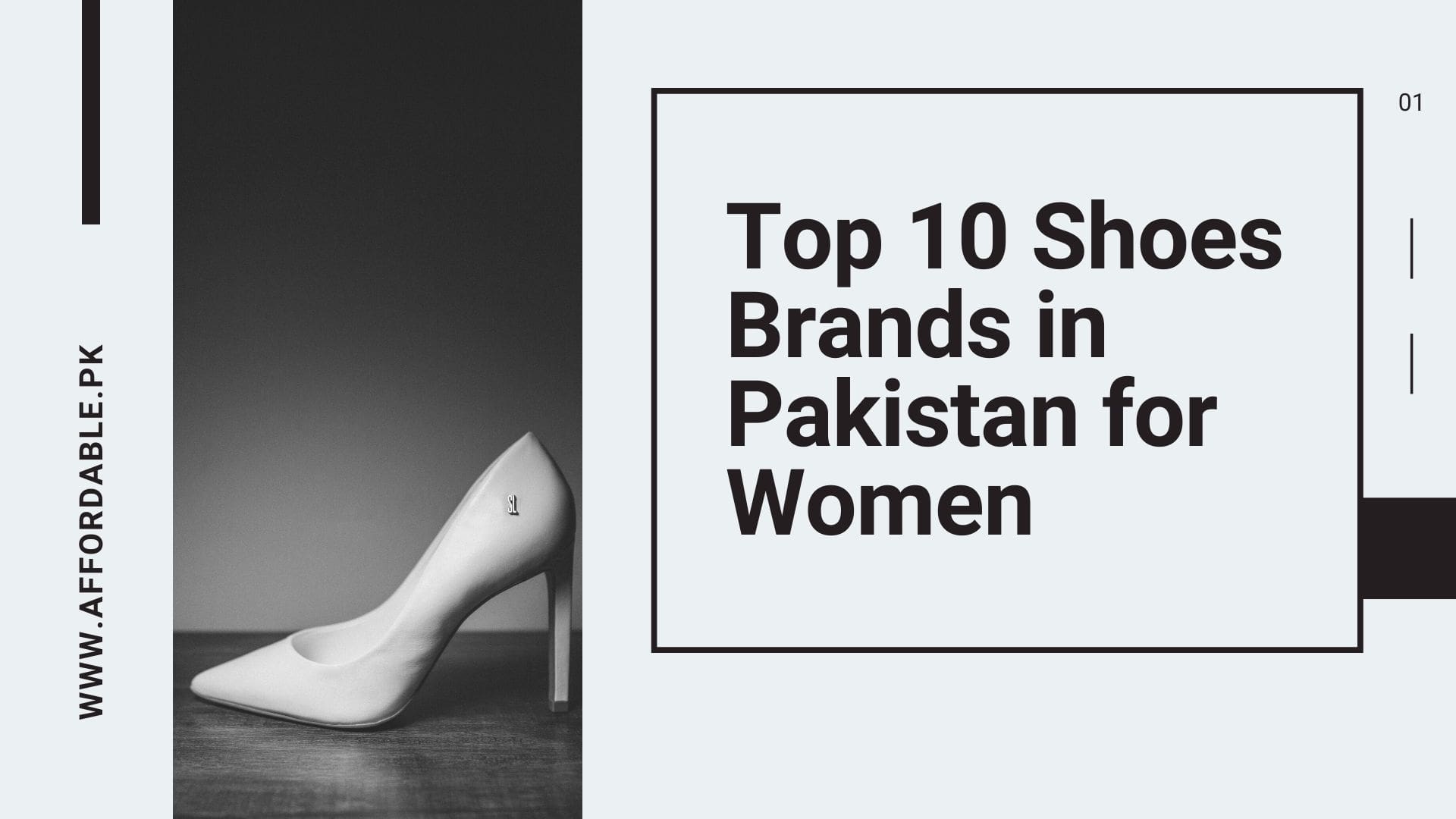 What comes to your mind when you think of fashion? Is it high-quality dresses, jewellery, accessories or shoes? Most fashion experts call shoes the deciding factor of a stylish look. Therefore, to give your attire a stunning and refined look, your choice of shoes will play an important role. Buying shoes is a very fun process in today's glamorous world with all the abundant options we have available now. If you want to know which are the 10 best shoe brands in Pakistan for women then you are in the right place!
Here is everything you need to know about the top ten women's shoes brands in Pakistan. This guide will help you decide the best shoes for every event.
Unze London

Nike Shoes for Women

Metro shoes

Stylo Shoes

Bata shoes

Hush Puppies

ECS

Servis shoes

Borjan shoes

Heels Shoes
1. Unze London
Unze London is a UK shoe brand that has recently become a popular footwear brand for Pakistani women. They have a very classic collection of stunning shoes. Recently three more stores of Unze London have been launched in Pakistan due to their increasingly high success. This shoe brand has a collection of boots, party shoes, heels, and traditional comfortable shoes. The wide variety allows customers to make the best shoe choice for themselves. Back in 1989 in the UK, Unze London was born to the Saleem Family. The business has more than 30 years of delivering excellence in footwear. Whether you are looking for women's or men's shoes, Unze can offer you both.
Their dedication and enthusiasm in making beautiful Pakistani traditional shoes have made them very popular. You can easily find Unze London stores in both Pakistan and the UK. It is a popular brand that offers modern and trendy designs. Unze London knows its audience better than any other brand which is why it has been so successful over the years. It is safe to say that this brand will stay in business for decades to come. As a creative community of fashionists, Pakistani society has its own set of traditions and trendy cultural designs. Unze London, despite being an international brand has been able to deliver products tailored to the needs of the Pakistani community.
You can find the best variety of casual, formal, traditional and fancy footwear. Unze London carries out a lot of customer and market research and evaluates all market trends and avenues of growth before deciding which approach they will be taking for their new collection. Their collections always feature the latest designs.
2. Nike Shoes for Women
Nike is a global brand that everyone knows of and loves. Nike has surprised not only Pakistan but the world with its newest ideas for making sports shoes more comfortable and sport-friendly. Nike is one of the top favourites in the world when it comes to sports for both ladies and men.
Have you ever seen tennis star Serena Williams sway to and fro in her shoes, hitting the ball so hard that the opponent has no choice but to back off? Yes, that's the power of Nike sneakers. As Nike has sporty shoes only, it is a perfect product for Pakistani ladies who have found their way to sports and gyms.
If you are starting your gym soon, you need to go to a Nike licensed store in Pakistan or place your order online. A pair of gym shoes from Nike is a must-have for anyone who likes playing sports. Nike's flagship products include Nike, Converse, Hurley, and Jordan brands. The NIKE price list starts at 12,000 PKR but there are many permit sales and annual sales that one can utilize to save some money.
3. Metro shoes
Metro shoes were introduced in 1986 in Pakistan however this brand has been able to grow internationally. Metro shoes offers the most beautiful, eye-catching, and budget-friendly collection of shoes. They also have a beautiful collection of jewellery, accessories, bags, and much more. Metro shoes is known for its highly affordable prices. Metro Shoes is famous for its artistic, high-quality, and smart designs for fashionable footwear and footwear accessories. Choosing between comfort and luxury is a big decision, but with Metro, you don't have to make that decision because all shoes are carefully designed to provide optimum comfort and also look stunning on the outside.
Metro shoes have been in the market for as long as the footwear industry has been thriving. There was a time when brides wore nothing but Metro shoes, and even now not much has changed. Customers still love Metro shoes as much as they did all those years ago when Metro shoes first started in 1986. There has been increased competition in the market but this brand has never failed to deliver top-notch excellence. Products manufactured by Metro shoes are ISO certified which is also why customers have developed customer loyalty over the years.
4. Stylo Shoes
Stylo Shoes is one of the most popular ladies shoes brands in Pakistan. It is especially famous for its Wedding Collection, where you can find bedazzled stilettos of the highest demand. It has more than 89 stores in Pakistan and you can definitely find stylo shoes in every mall in Pakistan. This brand easily comes under the top ten women shoes brands of Pakistan. It has a wide collection of shoes of all types. You can find everything from chappals, sandals, pumps, boots and heels here. So if you are looking for comfortable and yet fashionable shoes, stylo shoes is the place for you.
Lahore has been home to some of the best shoe brands and stores in Pakistan. The cultural touch and grace of the city make artists, designers and brands design the best creative, innovative styles. From exactly this approach, a young Lahori businessman, Mr Azhar Hussian Siddiqui, took up a job as a shoe salesman in the well-known Anarkali market. His overgrowing love and dedication for business, shoes and fashion made him build this brand from the scratch.
Today Stylo shoes is the most popular shoe brand in Pakistan. Stylo has more than 140 stores that spread across more than 50 cities in Pakistan. Their products are ISO certified, which ensures product quality. Stylo Shoes is well aware of what their customers need, which makes the brand reliable and loyal.
When it comes to women's fashion, no other product will complete your fashionista look but Stylo Shoes. They have all sorts of collections launched throughout the year. Their bridal collection famously sells shoes that can sparkle just as bright as the wedding dress of a bride.
Stylo offers shoes that not only look attractive but are also comfortable to wear. Their winter collection features many western designs like leather long boots. In Stylo shoes you can find shoe designs of all sorts from open-back shoes, moccasins, court shoes, sneakers, peep-toes and pumps to more traditional designs like Khussey, Kohaty and Peshawari shoes. Stylo also made a name for itself as a leading brand in Pakistan. They recently also introduced a collection of ladies handbags which has been getting a lot of hype on the internet.
5. Bata shoes
How can any conversation about footwear brands in Pakistan not include Bata shoes? As one of the old shoe retailers, Bata has a wide variety of shoes for all age groups including children, men and women. It has hundreds of shops in almost every city of Pakistan and each displays
the stunning collections of Bata shoes. Bata is not only a giant company when it comes to footwear, but it is also the oldest and most well-known shoe brand in Pakistan. The company went public in 1979 and became Bata Pakistan Limited with a large following, it has been delivering excellence since its inception.
Bata looks out for the spirit of fashion and stays on top of fashion trends. They offer the best shoe collections to their customers. Bata stores are also known for their lovely staff who will help you find exactly what you want with a smile on their face. Bata has grown into an international brand over the years and now has branches in many different countries. Bata being a multinational brand does much to benefit Pakistan's economy as well. This gigantic brand employs more than 10,000 people. Bata is committed is to providing its loyal customers with leading fashion designs for both men and women. Bata shoes also have a very adorable collection of shoes for children. At Bata, there is something for everyone. For any event, whether it is formal or informal you can definitely find a good pair to wear from Bata shoes.
6. Hush Puppies
Here comes another leading shoe brand for women in Pakistan, which has a year-round collection of one of the best shoes in the country. An essential part of buying the right shoes is finding comfort in the design. You don't want to sprain or bruise yourself while wearing shoes that look pretty on the outside. Hush puppies can be the best choice for anyone who wants fashion coveted in comfort. They have a huge collection of pumps, wedges, heels, flats, and"
sandals. Hush Puppies designs are also famous for being inclusive as you can find something for every foot size.
You can't beat Hush Puppies in terms of prices, design, quality and comfort. They have been providing women with the highest quality modern footwear in Pakistan since 2001. You can find Hush Puppies shops in all the famous shopping malls of Pakistan and also on well-known shopping streets. From all special events, everyday wear and office wear, everything is available at Hush Puppies. As if that was not enough, they have huge discount sales that go live throughout the year. Hush Puppies is your one-stop for all types of shoes.
7. ECS
Ehsan Chappal Store (Pvt.) Limited, better known as ECS, is a retail store founded in 1954. Once again this great store was started in the heart of Anarkali Bazar. Due to its innovative designs, soon after its establishment, ECS built a great reputation in the footwear industry. ECS may have started small, but it never intended to stay small. Today, ECS holds a major share in the shoe industry in Pakistan. They produce the best and most beautiful shoe collection of Pakistan. ECS has left its mark on Pakistan, winning hearts everywhere, including parts of the KPK, North-Central-South Punjab and Urban Sindh. ECS keeps its original promise to provide its clients with quality and value for money. They are the oldest shoe company in Pakistan, and they have achieved amazing success in just a few short years.
Women's shoes that leave the ECS factory are not only beautiful and elegant but also durable and comfortable. Once you have purchased from ECS, you will have a hard time switching to products of other brands. ECS offers seasonal collections in summer, winter and spring. Other
collections are also launched throughout the year featuring wedding shoes, dress shoes, sandals, slippers and sneakers. ECS has you covered whether you are going to the gym or to a special event or you're having a casual day with your friends. There's nothing you won't find on ECS. Ehsan Chappal Store has a variety of "traditional shoes", which give your personality an attractive charm. It is a new emerging brand and in a very short time it has taken over the market. All eyes are on ECS, especially for their latest chappal collection. ECS also sells sandals with very unique designs of belt buckles. You can not find shoes like ECS in any other brand. Their outlet is not only about shoes but also has other beautiful luxury accessories like bags, purses, jewellery and other accessories.
8. Servis shoes
Servis shoes very famously call themselves "your partner in happiness", which very aptly describes the brand. Service shoes is also one of the oldest shoe brands in Pakistan. They have been delivering excellence for over 50 years now. The first service store was established in 1959 in Lahore. Lahore has always been the hub of fashion trends and new business ventures. From the very first store, Service shoes have maintained the quality of beautiful, elegant and stylish shoes for all ages. It is one of the most popular shoe brands for women in Pakistan.
The idea behind Service shows originally was to provide fashionable shoes for women but now the brand has expanded to make shoes for men and children. Servis shoes not only manufacture everyday wear but also stocks the most glamorous and beautiful footwear for special occasions. The brand thrives with more than 500 stores and has more than 1500 independent retailers.
9. Borjan shoes
Borjan is what you call the essence of Pakistani culture. This brand knows exactly what women in Pakistan want and delivers precisely that. Only one marketing company knows what the Pakistani public needs more than any other product. Borjan is one of the most famous names in the world. Borjan shoes have more than 1000 employees, with more than 112 locations throughout Pakistan. More than 56 cities in Pakistan have famous Borjan markets where you can buy all your favourite shoes in one place.
Borjan's high-end footwear even took its business to the Middle East Market in 2014. It is now looking to expand into the MENA region soon. You can find a variety of shoes in Borjan including but not limited to Moccs, Mule, Court Shoes, Long Boots, Bee Toes, sports shoes, Dress Shoes, Heels, Flats, Chappal, Slipper, Sandals, Khussa, Uggs and boots. Borjan shoes are very comfortable and dainty. A lot of customers claim that you can walk a mile in Borjan shoes without them ever making your feet hurt. The best part about Borjan shoes has it be its very affordable prices.
10. Heels Shoes
Last but not least, "Heels Shoes" offer a timeless collection of all shoe designs but especially heels. Heels offers you fresh and timeless styles that have an unparalleled charm to them. Their new shoe collection features one of the more bright and colourful shoes. As the name suggests, this brand is very famously known for its heels. You can find every heel design from the block, wedges, Cuban, comma, cone, decorative, flare, french, high, kitten, medium, slim, spool, square, thick Cubans, and very very high heels. Heels is also known for carrying out very detailed and thorough market analysis and customer research. Other than just heels, when you talk about Heels shoes, you can also find flats, sports footwear and sandals. Their shoes are all you need for all your occasions.
To fully flaunt your favourite dress or to complete a look, you need the right pair of shoes. Luckily, Pakistan has one of the biggest shoe industries of the world. You can definitely find the right pair for yourself in the many famous brands this country has to offer. Most of these brands are local and hence have the best prices, while some of them are multinational and a bit expensive too.