Looking for Versatile Camisoles.
Jul 21,2023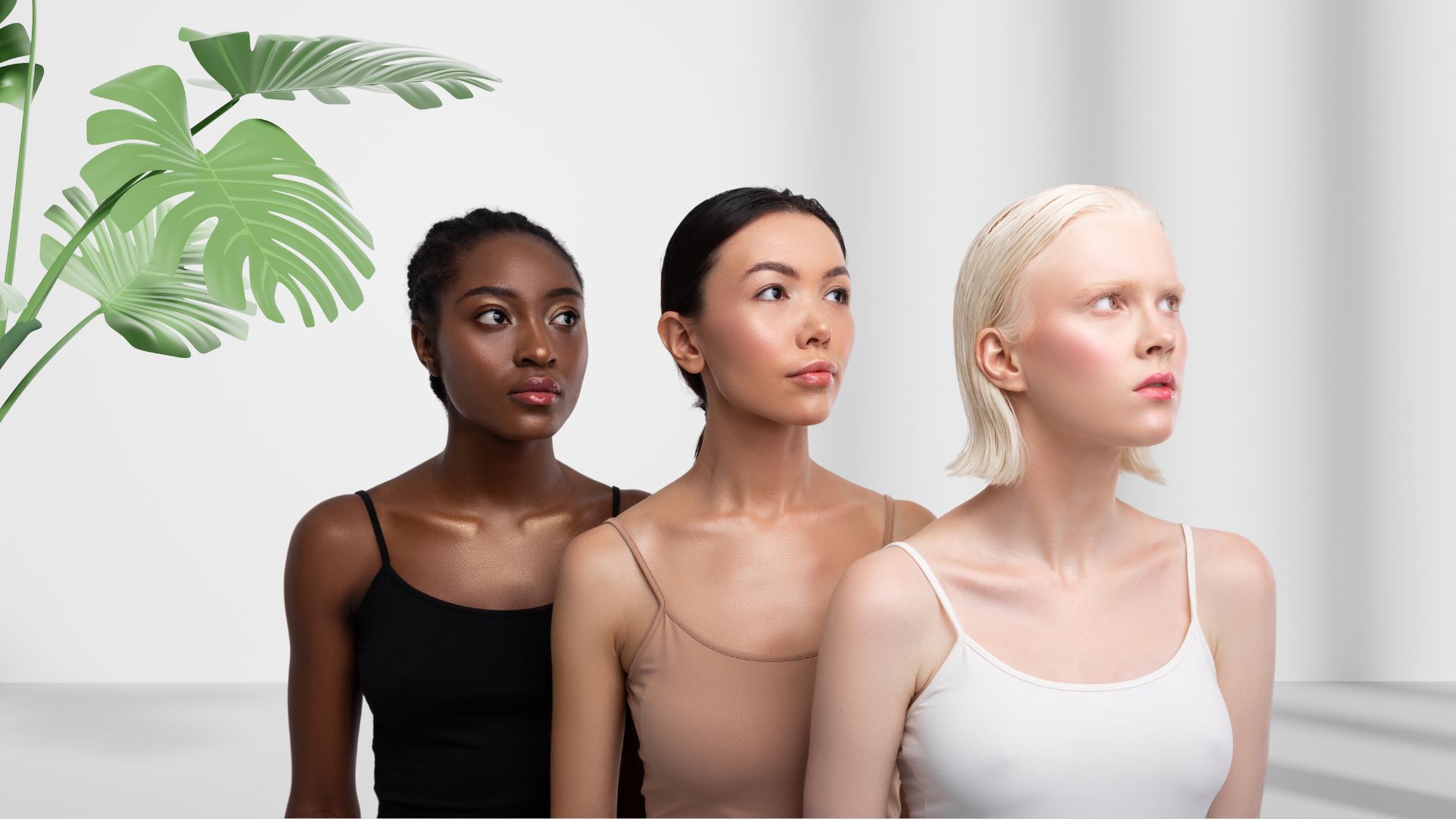 Introduction
Nowadays, particular wardrobe essentials are shaping fashion trends daily, and camisoles are one of them. These sleeveless and form-fitting garments have always been in style as they provide a very comfortable and flattering fit. Manufactured from soft materials and coming in various designs, camisoles have become very versatile to any woman's wardrobe. In this blog, we will delve into the fashion world, exploring types, materials used, styling options for camisoles, and how camisoles can add value to your personality.
Styles of Camisoles
As women's fashion continued to change with time. Similarly, camisoles are also upgraded, keeping in view the current trend.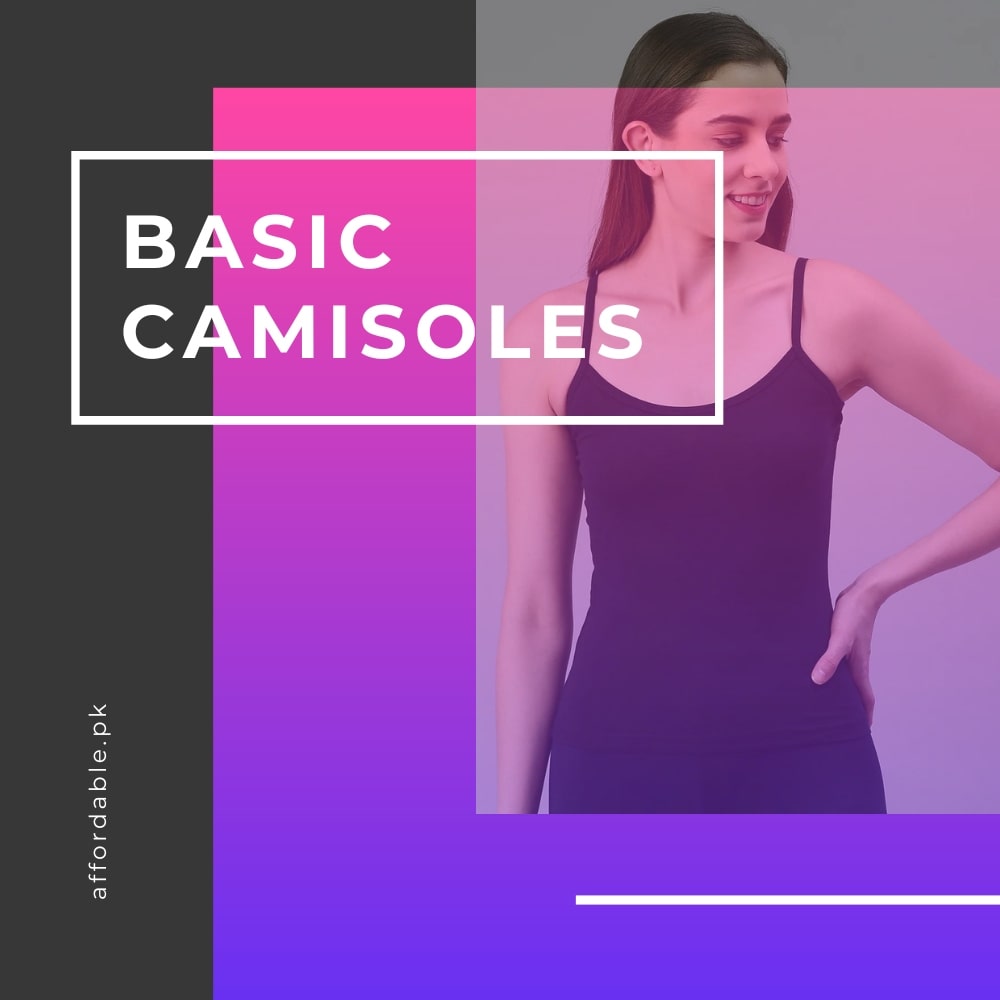 Basic Camisoles
These camisoles are simple yet practical. They are manufactured from soft materials such as cotton and modal, which gives a very comfortable experience. A basic camisole can be elevated to provide a very sophisticated look.
Lace-Trimmed Camisoles
Lace-trimmed camisoles are a step up from basic ones as they incorporate a touch of elegance and femininity. The best feature of lace-trimmed camisoles is that they can be utilized on casual and formal occasions.
These camisoles add intricate lace edging along the neckline, straps, and sometimes the hem, transforming it into an appealing garment. Whether attending a party, an anniversary celebration, or a romantic dinner, these camisoles elevate any outfit, exuding sophistication and grace.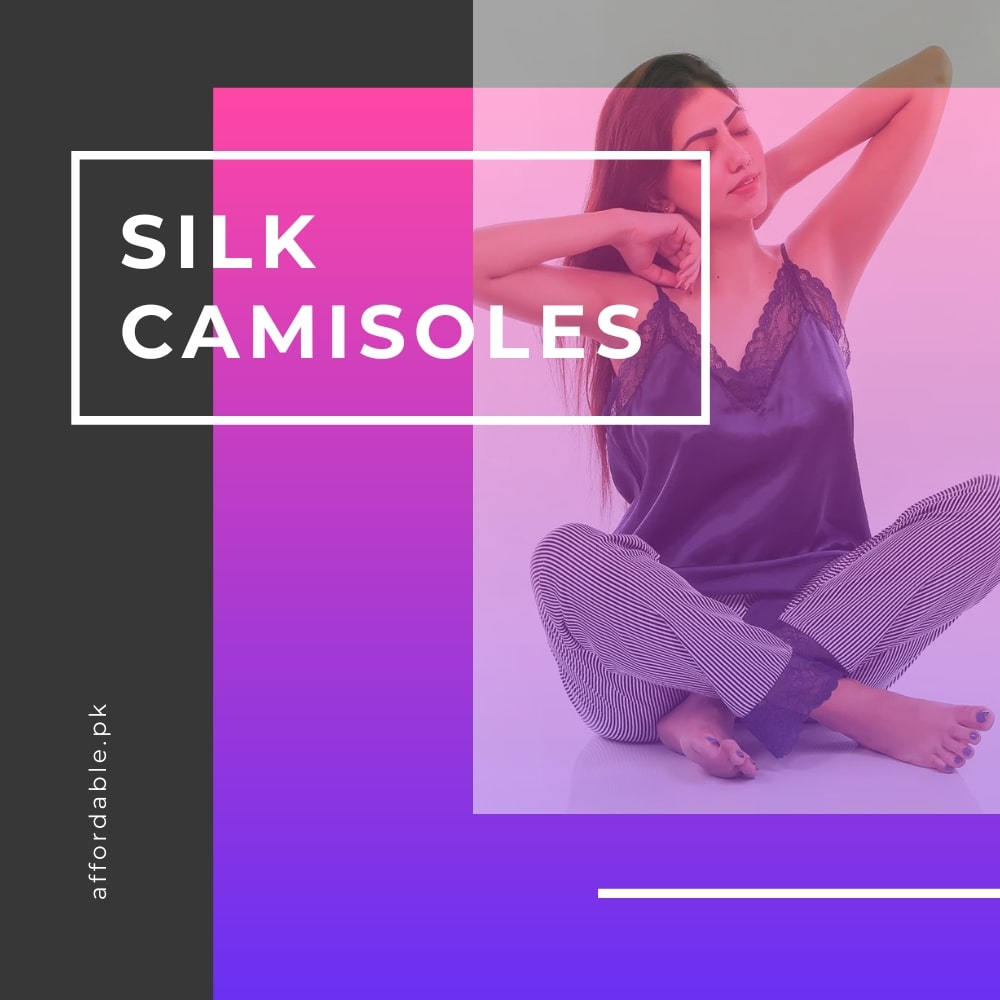 Silk Camisoles
Silk camisoles are very trendy nowadays because they offer a sense of luxury. These are crafted from the finest silk fabric, giving a very indulgent feeling. These can be worn as an undergarment or stylish tops. Their elegant design and charm make them popular among fashion enthusiasts, symbolizing a taste for refined style.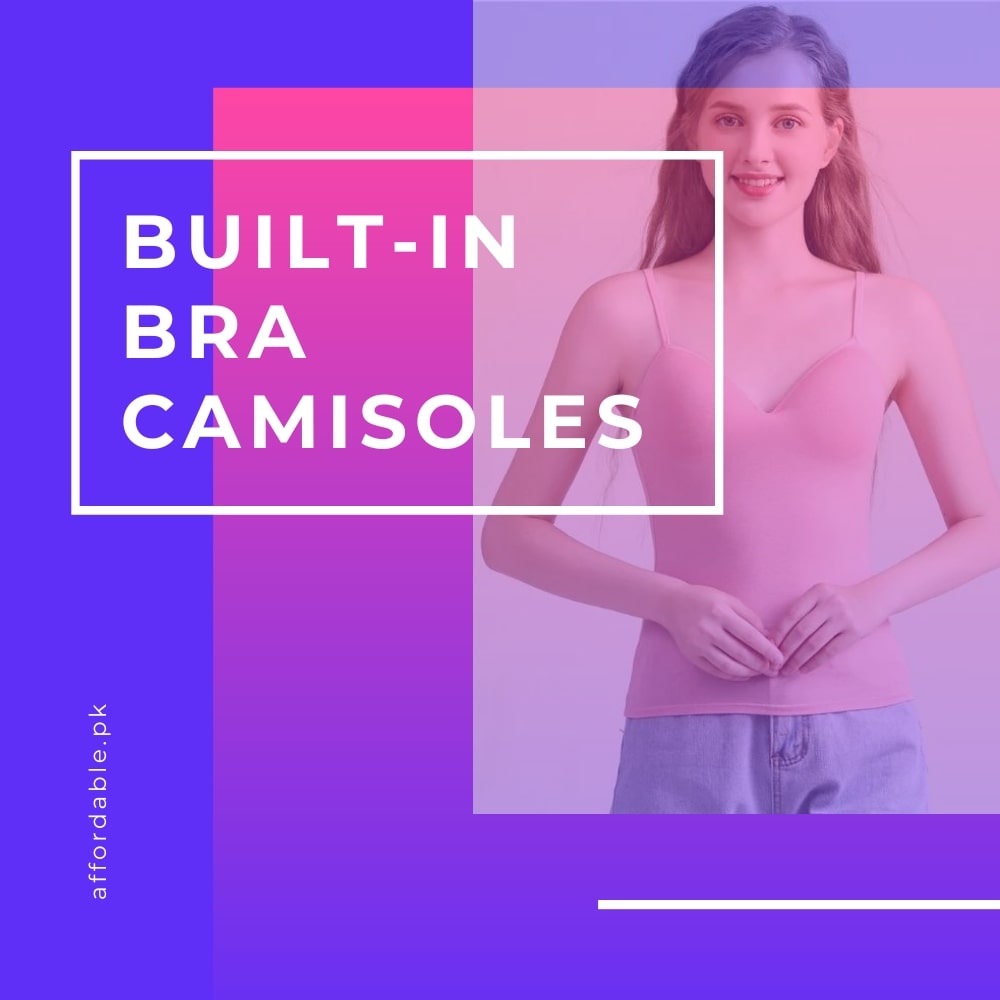 Built-in bra camisoles
Known for their convenience, Built-in bra camisoles are comfortable as they combine the functionality of a bra with the case of a camisole. These versatile garments feature an integrated bra with soft cups, providing essential support and eliminating the need for wearing a separate bra underneath. These are the perfect choice for those women who prefer a little and more comfortable alternative to traditional bras. Also, for women engaging in physical activities, built-in bra camisoles are an ideal option.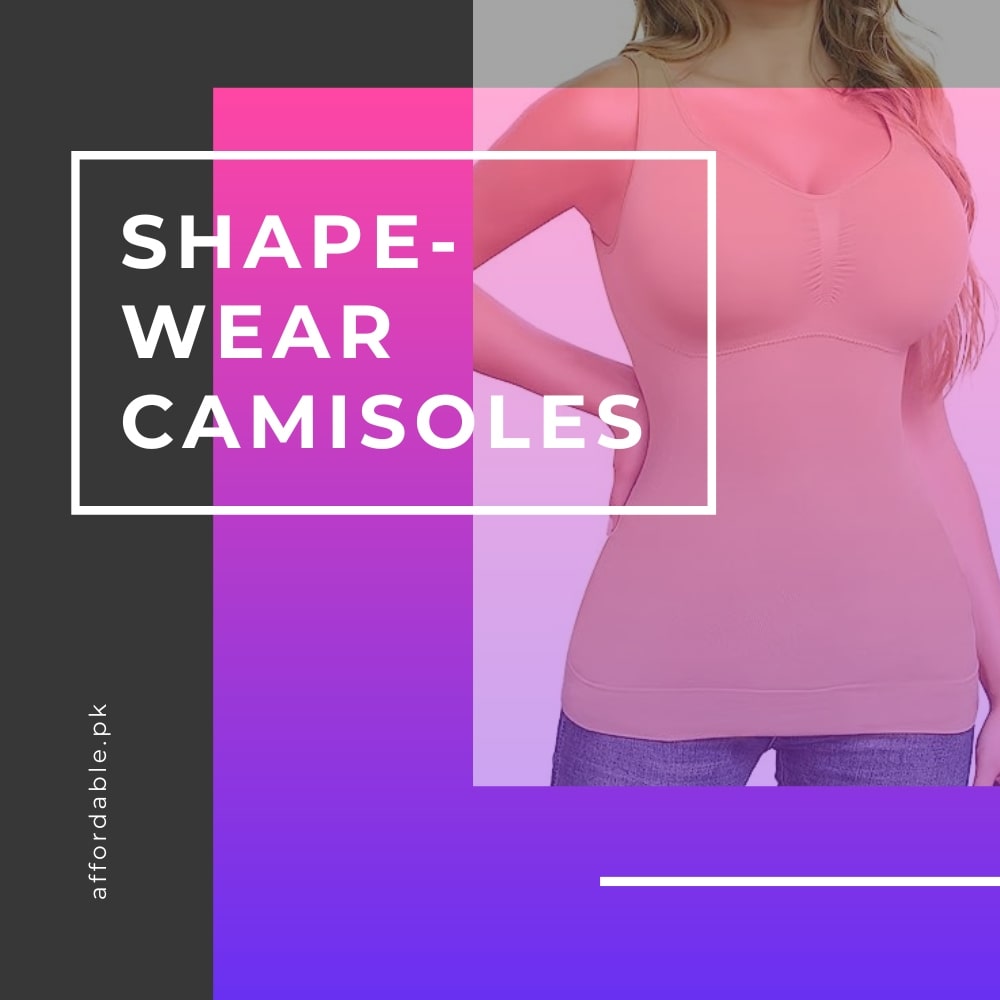 Shape-wear camisoles
Shape-wear camisoles are like regular camisoles but with additional features. The supportive features include compression, stretchy fabric, seamless design, and adjustable straps.
give the wearer a confidence boost by enhancing their figure and reducing the visibility of any unwanted bumps or bulges. Typically, its compression gives a streamlined appearance in areas like the tummy, waist, and back.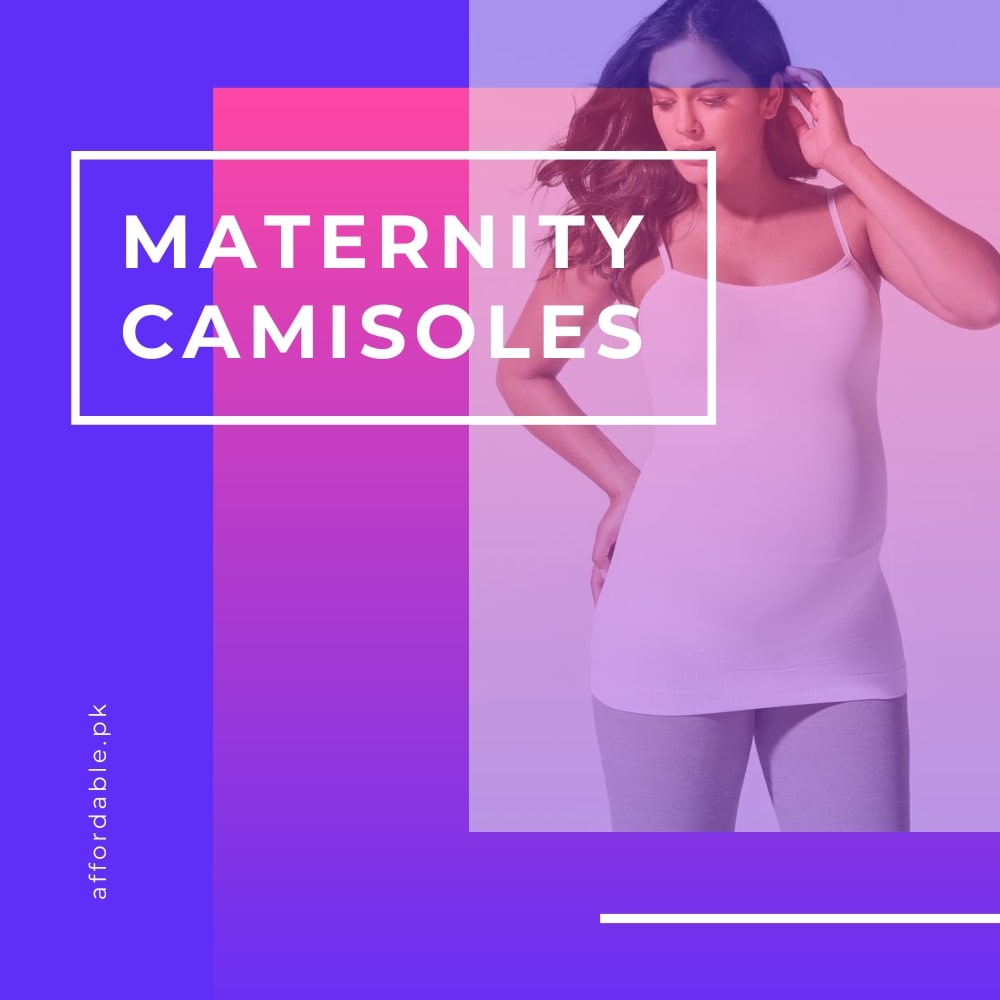 Maternity camisoles
As the name suggests, these specially designed tops provide a very comfortable experience for expectant mothers during pregnancy. They usually have longer lengths and adjustable straps to accommodate the expanding belly throughout pregnancy. These versatile camisoles can be worn alone or as a layering piece under other maternity clothing. So, if you are a pregnant woman feeling discomfortabe in a dress, select maternity camisoles today for your pleasure.
What are the materials used in a camisole?
Materials are selected for a camisole by considering their comfort, style, and durability level. The manufacturers are highly focused on choosing very soft and durable materials. Some of the commonly used materials are:
This is the most commonly used material as it is lightweight, breathable, and soft. Cotton-manufactured camisoles are very effective for everyday wear.
Becoming famous for its luxurious touch, silk camisole adds a touch of elegance to any outfit. The smooth structure of silk makes it glide effortlessly under clothing.
This material is made from beech tree fibres and is known for its soft texture. Modal camisoles are prized for their softness and moisture-wicking properties, keeping the wearer cool and dry in warm weather.
It is not a fabric on its own; instead, it is used as a decorative element on the camisoles. It adds a touch of elegance to the garments and makes them suitable to wear on different occasions.
The combination of polyester and spandex blend offers excellent stretch and shape retention, making the camisoles ideal for active wear.
However, manufacturers nowadays use sustainable and environment-friendly materials to make camisoles to impact the environment positively. Sustainable materials like organic cotton or recycled polyester are utilized to reduce the demand for new resources and minimize waste.
Styling Option for Different Camisoles
Camisoles are incredibly versatile pieces that can be styled in various ways. Such styles can cater to different occasions and fashion preferences.
Pair a basic camisole with high-waisted jeans or shorts for a relaxed and casual appearance. You can also wear a cardigan or denim jacket for a layered look.
For a formal occasion, it is recommended to wear lace trimmed or silk camisoles to create a sophisticated outfit. Are you looking for a neat look? Tuck your camisole into tailored pants or skirts.
Camisoles are excellent layering pieces. Wear them under blazers, jackets, or sheer tops to add depth and texture to an outfit.
Silk camisole ensures a very comfortable and stylish sleepwear option. So, you can also use a camisole as a nightwear to sleep better.
Use a lightweight, flowy camisole as a beach cover-up over swimwear for a breezy and effortless beach look.
How can I purchase a good camisole?
There are certain things that you should consider before purchasing any camisole. Considering the below-mentioned points can help you find the best-fit camisole for you.
Firstly, check the material it is made of. Ensure that the camisole is soft and comfortable to use. Look for durable materials as well that can retain shape after washes.
Check the fit and sizing, ensuring it complements your body type and offers the desired level of support.
Also, confirm the length of the camisole that matches your outfit preferences.
For wearing a camisole on multiple occasions, look for versatile caissons that you can wear at various events.
At last, check the quality of the lace or any other detail to ensure the overall appeal of the camisole.
Affordable.pk provides the best quality and variety of designs for camisoles. Manufactured from durable materials, their camisoles can surely add value to your outfit. You can also customize a camisole to tailor your preferences.
Conclusion
Camisoles have been an exquisite and versatile wardrobe essential. From their humble beginnings as undergarments to their evolution into fashionable and inclusive garments, camisoles play a significant role in modern women's fashion. Please consider some points before purchasing any equipment, and it's no wonder that camisoles remain a beloved and cherished item in countless women's closets worldwide. So, boost your confidence today by choosing a perfect camisole.