J. Men Latest Kurta Design Winter Collection 20.
Nov 24,2020
J Men Stylish latest Kurta Design Winter Collection
Make up your style mark this season with Junaid Jamshed winter collection for men that are fashion fit by all means and will enhance your personality.
When I talk about the traditional clothes of Pakistan, the first apron for men that comes to my mind is the shalwar kameez. Winter is here and we have begun our search for warm clothes to spend this cozy season with ease. Not just women but men are also buzzing through the online stores.
Including formal and casual wear both are on top of the search results that men of Pakistan explore on daily basis. When brands become trustworthy, they also do online shopping in Pakistan. If it comes to count the styles in men shalwar kameez, then I can't even count half of them. Season changes so as the fashion trends.
Meanwhile, j.kurta design has exploded the mind of many buyers by adding more detailed colors and fine fabric in the collection 2020. Let's discuss in detail how to treat your wardrobe with this collection.
 

J.Men Winter Collection 2020 Shalwar Kameez Designs
Imagine yourself wearing an embroidered kurta giving a complete formal wear look and attending the wedding ceremony of your friend. We know that you want others to follow your fashion. Therefore, it's a free tip to buy all your men's kurta from this brand.
On different occasions, from formal to casual, you can create an eid festive look with J. eid kurta shalwar kameez. At the neckline and on the front side of a banner, we find intricate embroideries motifs. After launching a successful collection for eid, now the outlet is filled with plenty of options that men can consider for wedding events or for a casual day.
In a recent kurta collection, you can find white shalwar kameez that looks so pure and ethereal. This brand also manufactures designer collection when the winter season starts because winter is considered to be the wedding season in Pakistan.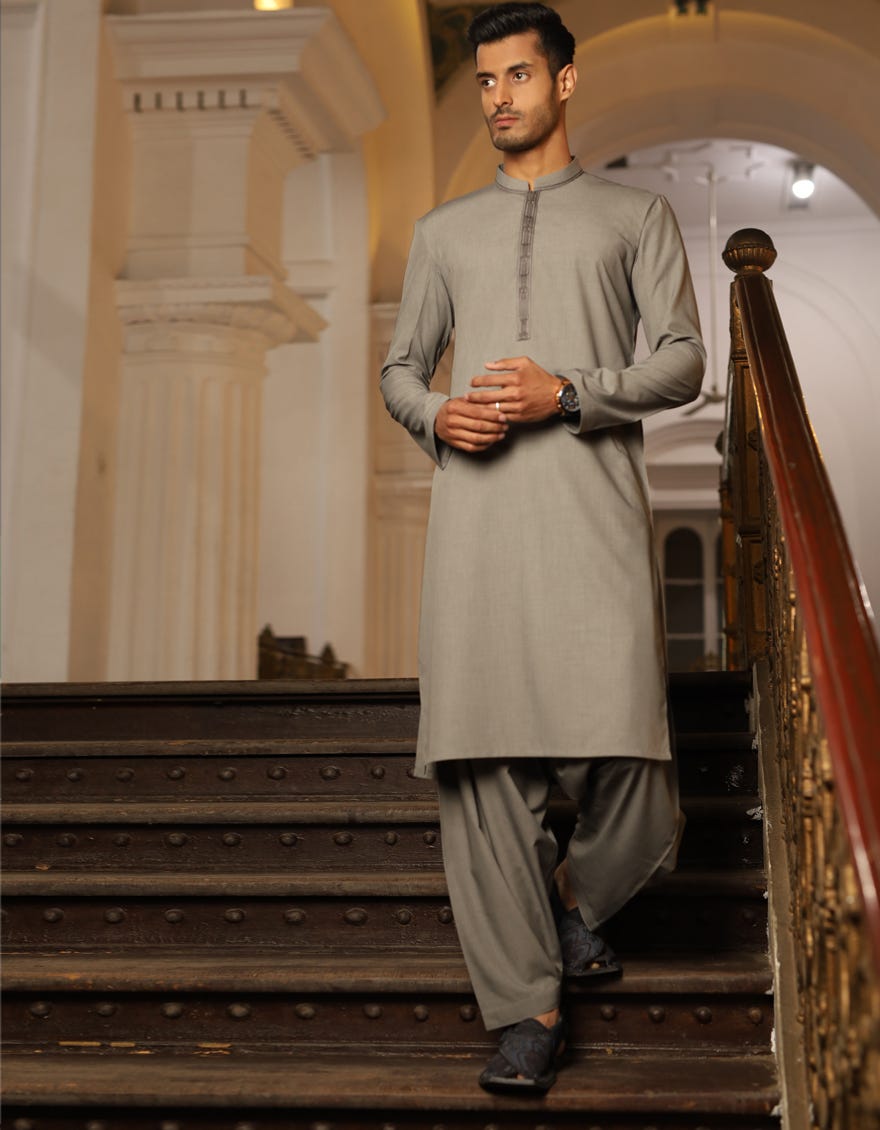 What Is Shalwar Kameez Made Of At Junaid Jamshed?
One word for this brand that I would like to use is the high quality that they utilize in choosing fabric for men. Either it's a plain kurta or formal type wearing kurta, you can easily trust this brand with prices and standards.
Men prefer wearing warm and cozy fabrics in the winter season, therefore, Junaid Jamshed chooses khaddar, pure cotton, wash, and wear fabric to make your winter bright.